Description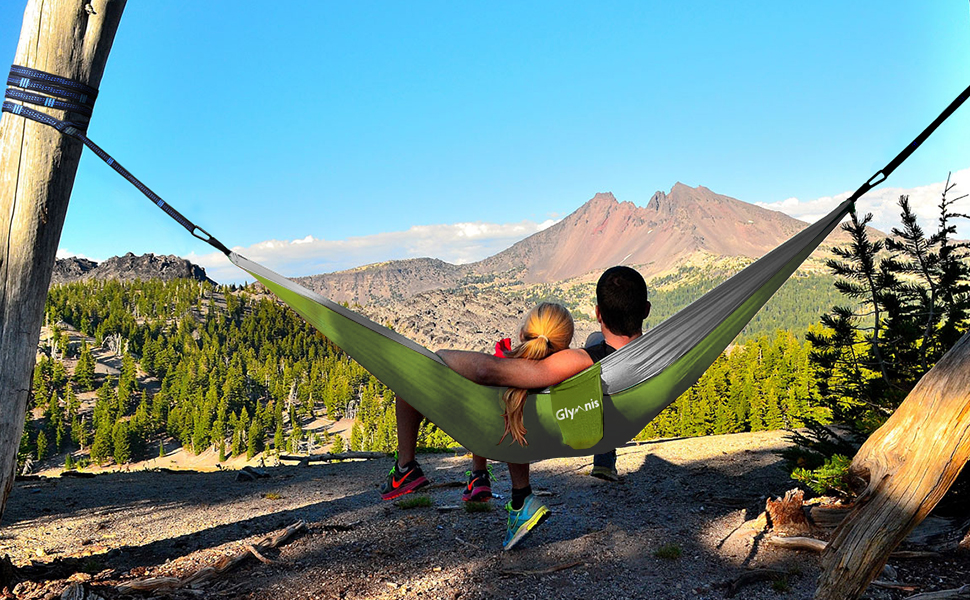 Glymnis Travel Hammocks are ultra-small packable lightweight hammocks made from tear-resistant parachute silk specially designed for travel, trekking and hiking.
Caring for travel hammocks.
As parachute silk is a very robust and resistant fabric, care for travel hammocks is very rudimentary.
Parachute silk may usually be washed at 30 °C in the washing machine on a gentle cycle, but you must make sure that any hanging cords do not knot. For this purpose, the two sides of the cords should be knotted beforehand and the hammock should be put into the machine in a laundry bag or an old pillowcase.
Otherwise, be sure to allow the fabric to dry well before packing to avoid mould stains and mould if stored for too long. If you have to pack a wet hammock on the fast, you should leave it to dry extensively at home – but please do not tumble dry.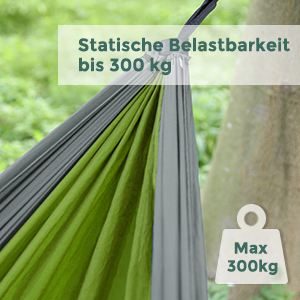 Lightweight nylon fabric
The high-quality functional nylon fabric is super comfortable, wafer-thin and resilient at the same time. It is also breathable and dries quickly.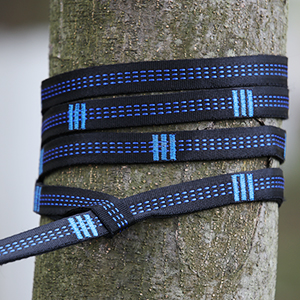 Extra wide tree strap.
The 40 mm wide tree strap can be easily attached, provides optimal support and protects the bark.
Sewn Pouch
The practical storage bag is not only ideal for transporting, but also transforms into a conveniently accessible storage compartment for a small book, your sunglasses or for a small snack.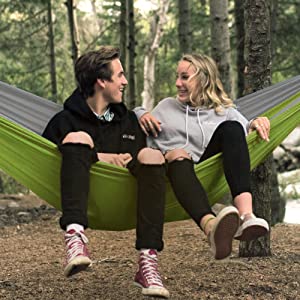 Advantages:
Ultra-light.
Breathable
Quick drying.
Robust workmanship.
Maximum load of 180 kg.
Cool design.
Includes hanging kit and therefore ideal for on the go.
Easy to install and gentle on the tree.
Suitable for forest, beach and park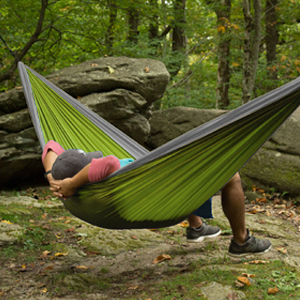 The right lying position.
If you want to lie comfortably in a travel hammock or even sleep, please make sure to use the right lying position. It is only important to place digitally instead of the length in the cloth surface. So your body stretches the fabric on its own and above all, the back is significantly less bent and all the more relaxed.
The hammocks are correct: Diagonal instead of the length
Diagonal lie instead of the length
To find the right lying position, sometimes you have to practice a little in the hammock. Few people are used to sleeping in the hammock, which is why it is sometimes difficult for beginners. With a little practice, everyone will find a comfortable lying position – provided the hammock is not too small.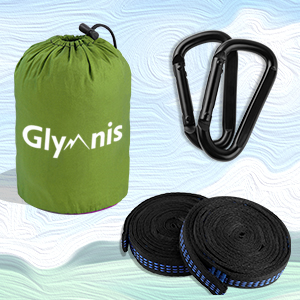 Box contents:
2 x 2.00 m rope (8 mm thick), 2 x steel carabiner glymnis travel hammock.